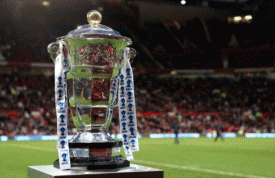 If you want to attend the exhilarating and exciting Rugby League World Cup Double Header then 1st 4 Coaches can ensure you get there in style and comfort. If you carry any concerns about getting to the event then we are the company to use as we are long-standing in the industry, having delivered a top rate coach and travel service for decades.
We can take you to and from the event in our luxury coaches, leaving you to concentrate on the event and enjoy yourself. What is more is that we can collect individuals and groups of people from almost anywhere within the UK in order to get them to the event and we are very flexible when it comes to the times of day groups are looking at travelling because we operate our service 24 hours a day, seven days a week. We are sure you will find 1st 4 Coaches very flexible and reliable.
The Rugby League World Cup Double Header sees two rugby games played on the same day and in the same stadium – an incredible day of rugby to be had by all attendees who can get their hands on tickets for the events.
Do not miss out on seeing this event and contact 1st 4 Coaches which can take care of all your travel needs.
Contact 1st 4 Coaches on 0800 193 3400 for an immediate quotation for Coach Hire to The Rugby League World Cup Double Header
Go to our testimonial page to see what our clients say about us…